:0086-371-86170005
:
:join. win
SA514 Grade E steel plate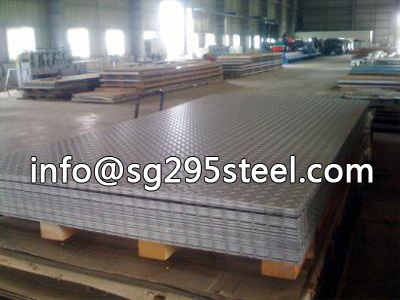 SA514 Grade E is a high-strength quenched and tempered alloy steel plate under ASME standard. ASME SA514 Grade E steel plate/sheet is mainly used for welding bridge and other structures with thickness less than or equal to 6in. (150mm). Quenched and tempered alloy structural steel plate.
Standard : ASME SA514/SA514M
Dimension range : 5-600mm*1500-4200mm*5800-16000mm
Heat treatment of ASME SA514 Grade E steel sheet /plate maybe subjected to normalling,quench-hardening and tempering,or tempering as necessary .Further ,thermomechanical control,or appropriate heat treatment may be applied upon the purchase.
SA514 Grade E steel plate/sheet Mechanical Properties :

Mechanical Properties

Grade

Thickness

Yield
Strength

Tensile Strength

Elongation

Charpy V Notch Impact Test

Degree

Min Value

SA514Gr.E

mm

Min Mpa

Mpa

Min %

-

J

5≤t≤20

690

760-895

18

-

20≤t≤65

690

760-895

18

65≤t≤150

620

690-895

18

Note: Impact energy for impact test is on longitudinal
SA514 Grade E pressure vessel steel Chemical Composition :

Chemical Composition

Grade

The Element Max (%)

C

Si

Mn

P

S

Cr

Mo

SA514Gr.E

0.12-0.20

0.20-0.40

0.40-0.70

0.035

0.035

1.40-2.00-

0.40-0.60

Zr

B

V

Ti

Cu

-

0.01-0.05

-

0.01-0.10

0.15-0.50
Delivery Status : Hot Rolled,CR, Normalized, Quenched, Tempering, TMCP, Electroslag Remelting Technical.
ASME SA514 Grade E Boiler steel plate application :
SA514 Grade E high strength low alloy steel plates are mainly made mechanical device and other structural elements and so on drilling machine, power shovel, electricity drive wheel counter- mine trolley, mineral product automobile, car loader.