SBV1B Steel for pressure vessels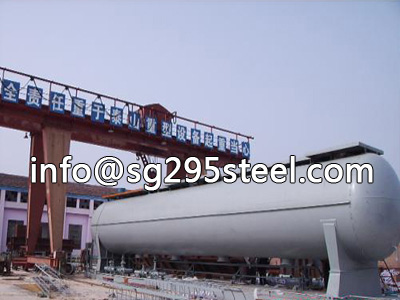 JIS G3119 SBV1B Steel for pressure vessels
JIS G3119 is the standard of G3119 SBV1B. JIS G3119 series steel grades include SBV1A, SBV1B, SBV2 , SBV3 .The application of SBV1A, SBV1B, SBV2 , SBV3 is to fabricate the low temperature pressure vessels.
Standard: JIS G3119
Steel equivalent material : ASTM A302 Gr. B
Thickness : 1.5mm -150mm
Width :1000mm-4000mm
Length ;1000mm-18000mm
MOQ: 1 PC
Stock : Available
MTC: Available
Payment Term : T/T or L/C At sight .
Delivery time : Promptly ( Stock) or 10-40 days (Production)
JIS G3119 SBV1B Equivalent grade :
ASTM A302 Gr.B
JIS G3119 SBV1B steel chemical composition :
Grade

Thickness mm

C ≤

Si ≤

Mn ≤

P ≤

S ≤

Ni

SBV1B

≤25

25~50

50~150

0.20

0.23

0.25

0.15~0.30

1.15~1.50

0.035

0.040

-
JIS G3119 SBV1B pressure vessel steel mechanical property:
Grade

Tensile strength MPa

Yield strength MPa

elongation
%

SBV1B

550-690

-

≥15
JIS G3119 SBV1B pressure vessel steel Heat treatment :
According to the performance and user needs, can be hot rolled steel plate, controlled rolling, normalizing, annealing, tempering, normalizing + tempering, quenched and tempered state delivery, etc
JIS G3119 SBV1B steel chief application:
SBV1B medium temperature pressure vessel steel is widely used in petroleum, chemical industry, power station, boiler, etc, used to make the reactor, heat exchanger, separator, spherical tank, liquefied gas, nuclear reactor pressure vessel, boiler steam drum steam, liquefied petroleum, hydropower station, high pressure pipe, spiral case and other equipment and components.