SG325 Steel Plates for Gas Cylinders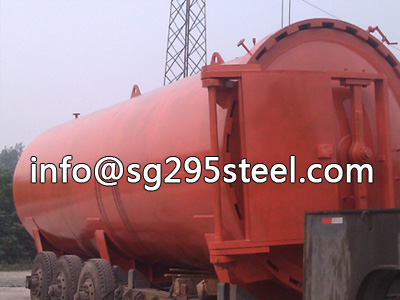 SG325 Steel Plates for Gas Cylinders
Standard:JIS G3116
SG325 Steel Plates equal material :ASTM A414 Gr.G
SG 325 steel plate/sheet is one mainly of Steel for gas cylinders and gas vessels.JIS G3116 SG325 steel is grade for gas cylinders in SG325,SG295,SG325, SG265 and SG365,which with the tensile strength of 400MPa and the yield strength of 255MPa.
SG325 Steel Plates chemical composition:(%)
Symbol

Chemical composition

C

max

Si

max

Mn

max

P

max

S

max

SG325

0.20

0.55

1.50

0.040

0.040
SG325 steel plate mechanical property:
Symbol

Yield point or proof stress

N/mm2 (min)

Tensile strength

N/mm2 min

Elongation % min

Tensile test piece

Bendability

Bending

Angle

Inside radius

Test piece

SG325

325

490

22

NO.5 in rolling direction

180°

Thickness x 1.0

Thickness x 1.5

No.3 in rolling direction
SG325 steel chief application:
SG325 steel is widely used in petroleum, chemical industry, power station, boiler, etc, used to make the reactor, heat exchanger, separator, spherical tank, liquefied gas, nuclear reactor pressure vessel, boiler steam drum steam, liquefied petroleum, hydropower station, high pressure pipe, spiral case and other equipment and components.
Shanghai Royal Industry is the professional Chinese SG325 steel plate supplier .we keep more than 1000 tons SG325 steel plate in our warehouse . if you need any offer or if you want to know SG325 steel price , please be free to contact us.