:0086-371-86170005
:
:join. win
P275GH steel plate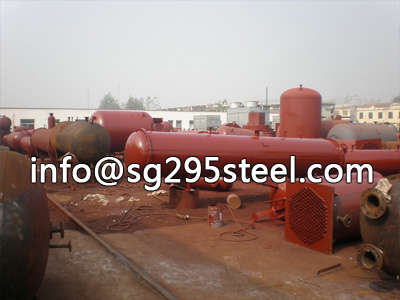 P275GH steel plate
P275GH steel plate main description :
P275GH steel plate is a kind of material for boiler and pressure vessel steel. P275GH steel is mainly used to for manufacturing boilers, pressure vessels and pipes transporting hot liquids.
P275GH steel plate production details:
| | | | | | |
| --- | --- | --- | --- | --- | --- |
|  grade | standard | thickness | width | length | shape |
|  P275GH |  EN10273 | 6-200mm | 1500~4500mm | 6000-18000mm | plate |
P275GH steel plate Delivery details:
the use of state according to user requirements, can press rolling (AR), hot rolling (CR), mechanical controlled rolling accused of cold (TMCP), is fire (N), tempering (T), annealing (A), quenching (Q), adjusting quality (QT) and so on the different state delivery.
P275GH steel plate application:
P275GH pressure vessel steel is widely used in petroleum, chemical industry, power station, boiler, etc, used to make the reactor, heat exchanger, separator, liquefied gas, nuclear reactor pressure vessel, boiler steam drum steam, liquefied petroleum, hydropower station, high pressure pipe, spiral case and other equipment and components.