:0086-371-86170005
:
:join. win
ASTM A537 Class 2 steel plate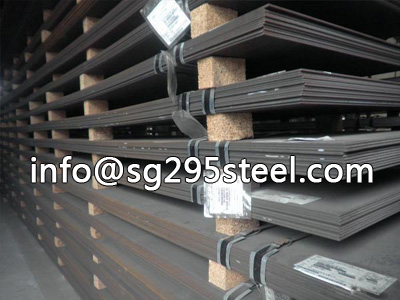 ASTM A537 Class 2 is a kind of steel plate used for pressure vessel plates, heat-treated, carbon-manganese-silicon steel.It is in the American standard ASTM A537. And ASTM A537 Class 1 plates shall be normalized.There are three steel grades or levels in the standard ASTM A537, And they are Class 1,Class 3 .
Standard: ASTM A537/ A537M
Dimension range : 1.5mm -260mm * 1000mm-4000mm * 1000mm-18000mm

ASTM A537 Class 2 Boiler steel plate Mechanical Property :

Mechanical Property

Grade

Thickness

Yield

Tensile

Elongation

A537 Class 2

-65

415

550-690

22

65-100

380

515-655

20

100-150

315

485-620

-

Note: Impact energy for impact test is on longitudinal
ASTM A537 Class 2 steel plate/sheet Chemical Composition :

Chemical Composition

Grade

The Element Max (%)

C

Mn

P

S

Si

Cu

Ni

Cr

Mo

A537 Class 2

0.24

0.92-1.72

0.035

0.035

0.13-0.55

0.38

0.28

0.29

0.09
Carbon Equivalent: Ceq = 【C+Mn/6+(Cr+Mo+V)/5+(Ni+Cu)/15】%
Delivery Status : Normalizing, tempering, quenching and tempering
ASTM A537 Class 2 Q&T steel plate application :
A537 Class 2 steel plate is mainly used in oil, chemical, power station, boiler and other industries, for the production reactor, heat exchangers, separators, spherical tanks, oil and gas pipes, liquefied gas tanks, nuclear reactor pressure shell, boiler drum, liquefied petroleum Gas cylinders, high-pressure water pipes, water turbines and other equipment and components.