:0086-371-86170005
:
:join. win
ASTM A633 Grade C steel plate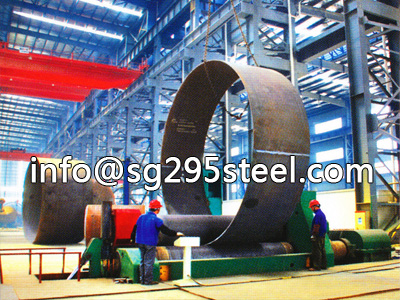 ASTM A633 Grade C steel plate/sheet manufacturing process are: raw material inspection ---raw material pickled --- raw material cutting---raw material heating----perforation process---rolling---heat treatment---property checking---inspection---packing.
Heat treatment of ASTM A633 Grade C steel sheet /plate maybe subjected to normalling,quench-hardening and tempering,or tempering as necessary .Further ,thermomechanical control,or appropriate heat treatment may be applied upon the purchase .
Standard: ASTM A-633/A-633M
Dimension range :3mm -260mm * 1000mm-4000mm * 1000mm-18000mm
A633 Grade C steel plate/sheet Mechanical Property :

Mechanical Property

Grade

Thickness

Yield
Strength

Tensile
Strength

Elongation

Charpy V Impact Test

Degree

Energy 1

Energy 2

A633Gr.C

mm

Min Mpa

Mpa

Min %

-

J

J

5<t≤65

345

485-620

18

65<t≤100

315

450-590

18
A633 Grade C Boiler steel plate Chemical composition :

Chemical composition

Grade

C

Mn

P

S

Si

Nb

V

A633Gr.C

≤0.20

1.15-1.50

≤0.035

≤0.04

0.15-0.50

0.01-0.05

-
Delivery Status : Hot Rolled,CR, Normalized, Quenched, Tempering, TMCP, Electroslag Remelting Technical.
ASTM A633 Grade C structural steel plate application :
A633 Grade C steel plate is mainly used in oil, chemical, power station, boiler and other industries, for the production reactor, heat exchangers, separators, spherical tanks, oil and gas pipes, liquefied gas tanks, nuclear reactor pressure shell, boiler drum, liquefied petroleum Gas cylinders, high-pressure water pipes, water turbines and other equipment and components.