:0086-371-86170005
:
:join. win
ASTM A645 steel plate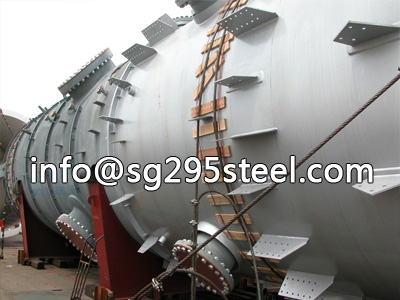 ASTM A645 in the standard A-645/A-645M is a kind of Ni alloy steel plates material used to fabric high temperature pressure vessels, the composition of Ni is 5%. ASTM A645 need to be done the special heat-treatment to meet the property requirement in the standard ASTM A-645/A-645M.
Standard: ASTM A-645/A-645M
Dimension range :3mm -260mm * 1000mm-4000mm * 1000mm-18000mm
ASTM A645 steel plate/sheet Mechanical Properties :

Mechanical Properties

Grade

Tensile Strength
ksi (Mpa)

Yield Strength
ksi (Mpa)

Elongation in 2 in , 50 mm,min,(%)

A645

95-115
(655-795)

65
(450)

20
ASTM A645 Ni alloy steel plate Chemical composition :

Chemical composition

Grade

C ≤

Mn

P ≤

S ≤

Si

Ni

Mo

Alt

N ≤

A645

Heat analyse

0.13

0.30~0.60

0.025

0.025

0.20~0.40

4.75~5.25

0.20~0.35

0.02~0.12

0.020

Product analyse

0.15

0.25~0.66

0.035

0.035

0.18~0.45

4.65~5.35

0.17~0.38

0.01~0.16

0.025
Delivery Status : Annealing, Normalizing + tempering
ASME A645 pressure vessel steel application :
A645 steel plate is mainly used in oil, chemical, power station, boiler and other industries, for the production reactor, heat exchanger, separator, spherical tank, oil tank, liquefied gas tank, nuclear reactor pressure shell, boiler drum, Liquefied petroleum gas cylinders, high-pressure water pipes, water turbines and other equipment and components.