:0086-371-86170005
:
:join. win
ASME SA553 Type II Ni-alloy steel plates for pressure vessels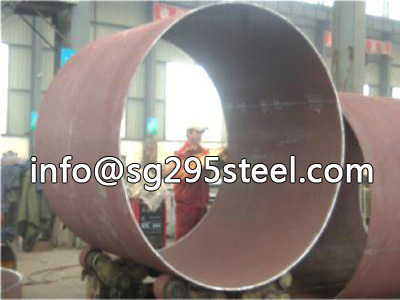 SA553 Type II in the standard SA553/SA553M is a kind of Ni alloy steel plates material used to fabric high temperature pressure vessels, the composition of Ni is 8% and 9%. SA553 have two types . They are : type I and type II . SA553 Type II need to be done the (Quenching + Tempering ) heat-treatment to meet the property requirement in the standard ASME SA553/SA553M.
ASME SA553 Type II steel chemical composition (%):
Composition

Type II

C≤

Heat analyse

0.13

Product analyse

Mn ≤

Heat analyse

0.90

Product analyse

0.98

S ≤ P ≤

Heat analyse

0.035

Product analyse

Si

Heat analyse

0.15~0.40

Product analyse

0.13~0.45

Ni ≤

Heat analyse

7.50~8.50

Product analyse

7.40~8.60
ASME SA553 Type II Mechanical Properties :
Grade

Tensile Strength
ksi (Mpa)

Yield Strength
ksi (Mpa)

Elongation in 2 in , 50 mm,min,(%)

SA553

100-120

(690-825)

85

(585)

20
ASME SA553 Type II Delivery Condition:
Normalizing/Tempering/Annealing/Quenching/QT and so on. (According to the customer's request of chemical composition and mechanical properties.)
ASME SA553/SA553M Type II Abstract :
This specification covers 8 and 9% nickel alloy steel plates for use in the water quenched and tempered condition intended for the fabrication of welded pressure vessels. The materials shall be available in two types, namely Type I and II, having different chemical compositions. The maximum thickness of plates is limited only by the capacity of the material to meet the specified mechanical property requirements. The material is susceptible to magnetization and the use of magnets in handling after heat treatment should be avoided if residual magnetism would be detrimental to subsequent fabrication or service. The steels shall be killed and shall conform to the fine austenitic grain size requirement specified. The plates shall be tempered and hardened by heat treatment. The specimens shall be subjected to tension and Charpy V-notch impact tests.
This abstract is a brief summary of the referenced standard. It is informational only and not an official part of the standard; the full text of the standard itself must be referred to for its use and application. ASME does not give any warranty express or implied or make any representation that the contents of this abstract are accurate, complete or up to date.
Shanghai Royal Industry is a professional ASME SA553 and ASTM A553 steel stockist and supplier. We can supply different product type of ASME SA553. If you have any need of ASME SA553 steel please do not hesitate to contact us .
Related link :ASME SA553 Type I,ASTM A553 Type I,ASTM A553 Type II,ASME SA553