ASTM A299 Carbon Steel for Pressure Vessel Plates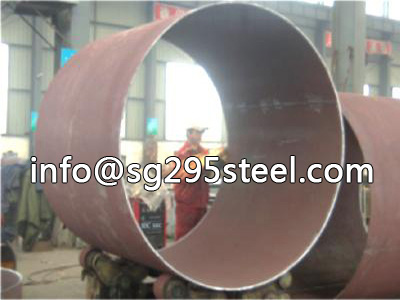 ASTM A299 Carbon Steel for Pressure Vessel Plates
ASTM A299 is a kind of carbon steel material, it's product type is steel plates. Based on A299 higher C, Mn, and Si composition, ASTM A299 widely used to fabric pressure vessel.There are two steel grades in the standard ASTM A299 , and they are A299 Gr.A, A299 Gr.B .
Standard: ASTM A299/ A299M
Steel Grade : A-299 Gr.A, A-299 Gr.B
Thickness :1.5mm -260mm
Width :1000mm-4000mm
Length :1000mm-18000mm
MOQ: 1 PC
Product type : Steel plate
Delivery time : Promptly ( Stock) or 10-40 days (Production)
Stock : Available
MTC: Available
Payment Term : T/T or L/C At sight .
ASTM A299 Test: UT test/impact test/PWHT /Z15 Z25 Z35 etc.
ASTM A299 chemical composition :
Grade

The Element Max (%)

C

Si

Mn

P

S

Mo

A299 GR.A

0.28-0.30

0.13-0.45

0.84 -1.62

0.035

0.035

-

A299 GR.B

0.28-0.30

0.13-0.45

0.84 -1.62

0.035

0.035

-
Carbon Equivalent: Ceq = 【C+Mn/6+(Cr+Mo+V)/5+(Ni+Cu)/15】%
ASTM A299 Mechanical Property :
Grade

Thickness

Yield

Tensile

Elongation

A299 GR.A

mm

Min Mpa

Mpa

Min %

t≦50

275-290

515-655

19

50<t≦200

275-290

515-655

19

A299 GR.B

t≦50

310-325

550-690

19

50<t≦200

310-325

550-690

19