ASTM A-517/A-517M high tensile alloy steel plates for pressure vessels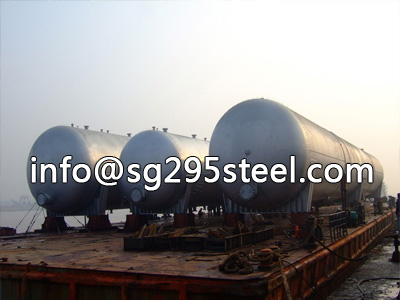 ASTM A-517/A-517M high tensile alloy steel plates for pressure vessels
ASTM A517 in the standard A517/A517M is a kind of high tensile alloy steel plates material used to fabric high temperature pressure vessels. ASTM A517 have six grades or levels. They are : grade A, grade B, grade E, grade F, grade J , grade P. ASTM A517 need to be done the (Quenching + Tempering ) heat-treatment to meet the property requirement in the standard ASTM A517.
Standard: ASTM A-517/A-517M
Steel Grade : A517 GR A, A517 GR B, A517 GR E, A517 GR F, A517 GR H, A517 GR P, A517 GR Q, A517 GR S
Thickness:3mm -260mm
Width :1000mm-4000mm
Length :1000mm-18000mm
MOQ: 1 PC
Delivery time : 10-40 days (Production)
MTC: Available
Payment Term : T/T or L/C At sight .
ASTM A517 steel chemical composition :
Composition

Grade A

Grade B

Grade E

Grade F

Grade H

Grade P

Grade Q

Grade S

C

Min

0.15

0.15

0.12

0.10

0.10

0.12

0.10

0.10

Max

0.23

0.23

0.22

0.22

0.23

0.23

0.23

0.22

Mn

Min

0.80

0.70

0.40

0.60

0.87

0.45

0.87

1.02

Max

1.20

1.10

0.78

1.10

1.41

0.78

1.41

1.62

P

0.035

0.035

0.035

0.035

0.035

0.035

0.035

0.035

S

0.035

0.035

0.035

0.035

0.035

0.035

0.035

0.035

Si

Min

0.40

0.15

0.10

0.15

0.13

0.20

0.13

0.13

Max

0.86

0.37

0.45

0.37

0.37

0.37

0.37

0.45

Ni

Min

-

-

-

0.70

0.27

1.20

1.15

-

Max

-

-

-

1.03

0.73

1.55

1.55

-

Cr

Min

0.50

0.40

1.40

0.40

0.36

0.85

0.94

-

Max

0.84

0.69

2.06

0.69

0.69

1.26

1.56

-

Mo

Min

0.18

0.15

0.40

0.40

0.17

0.45

0.36

0.10

Max

0.31

0.28

0.64

0.64

0.33

0.64

0.64

0.38

V

Min

-

0.03

-

0.03

0.02

-

0.02

-

Max

-

0.09

-

0.09

0.09

-

0.09

-

B

Min

-

0.0005

0.001

0.0005

0.0005

0.001

-

-

Max

0.0025

0.005

0.005

0.006

-

0.005

-

-
Note : Grade S (%) Cb : 0.07 , Ti : 0.07
ASTM A517 Mechanical Property :
Grade

Thickness

Yield

Tensile

Elongation

mm

Min Mpa

Mpa

Min %

A517 Grade A

6-65

690

795-930

16%

65-150

620

725-930

14%

A517 Grade B

6-65

690

795-930

16%

65-150

620

725-930

14%

A517 Grade E

6-65

690

795-930

16%

65-150

620

725-930

14%

A517 Grade F

6-65

690

795-930

16%

65-150

620

725-930

14%

A517 Grade H

6-65

690

795-930

16%

65-150

620

725-930

14%

A517 Grade P

6-65

690

795-930

16%

65-150

620

725-930

14%

A517 Grade Q

6-65

690

795-930

16%

65-150

620

725-930

14%

A517 Grade S

6-65

690

795-930

16%

65-150

620

725-930

14%