:0086-371-86170005
:
:join. win
ASTM A542 Grade D steel plate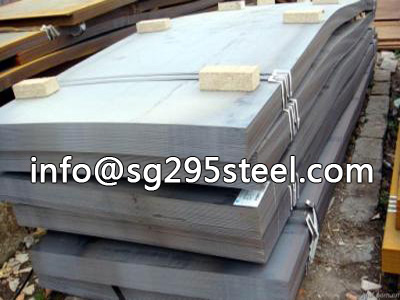 A542 have five grades or levels. They are : grade A, grade B, grade C, grade D, Grade E.A542 Grade D need to be done the (Quenching + Tempering ) heat-treatment to meet the property requirement in the standard ASTM A-542/A-542M.
ASTM A542 Grade D in the standard A-542/A-542M is a kind of Mo-V alloy steel plates material used to fabric high temperature pressure vessels.
Standard : ASTM A-542/A-542M
Dimension range :3mm -260mm x 1000mm-4000mm x 1000mm-18000mm
ASTM A542 Grade D steel plate/sheet Mechanical Properties :

Mechanical Properties

Grade

Thickness

Yield
Strength

Tensile Strength

Elongation

Charpy V Notch Impact Test

Degree

Min Value

A542 Grade D

mm

Min Mpa

Mpa

Min %

-

J

5≤t≤50

85(585)

105-125(725-860)

14

-

Note: Impact energy for impact test is on longitudinal
A542 Grade D Boiler steel plate Chemical Composition :

Chemical Composition

Grade

The Element Max (%)

C

Si

Mn

P

S

Cr

Mo

A542 Grade D

≤0.18

0.013

0.25-0.66

0.015

0.015

1.08-2.262

0.85-1.15

Ni

V

≤0.28

≤0.37
① In A 542/A 542M-82 standard and the earlier standard, the steel plates whose thickness ≤ 125mm, C must be ≤ 0.15%
② Ca can be replace by REM as the agreement with manufacturer and buyer, if like this, then the total amount of REM should be stated.
Delivery Status : Quenching + tempering
ASTM A542 Grade D Ni alloy steel plate/sheet application :
A542 Grade D steel plate is mainly used in petroleum, chemical industry, power station, boiler and other industries, for the production reactor, heat exchanger, separator, spherical tank, oil tank, liquefied gas tank, nuclear reactor pressure shell, boiler drum, liquefaction Oil cylinders, high-pressure water pipe hydropower station, turbine volute and other equipment and components.