:0086-371-86170005
:
:join. win
SA204 steel plate > JIS > Views - SBV2 Mn-Mo and Mn-Mo-Ni Alloy Steel Plates for Boilers and Other Pressure Vessels
SBV2 Mn-Mo and Mn-Mo-Ni Alloy Steel Plates for Boilers and Other Pressure Vessels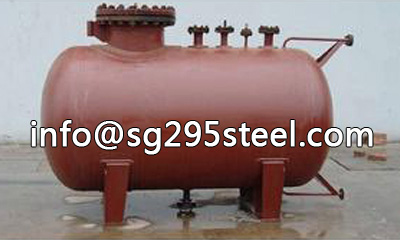 SBV2 Mn-Mo and Mn-Mo-Ni Alloy Steel Plates for Boilers and Other Pressure Vessels
Standard:JISG3119
SBV2 pressure vessel steel equal material :ASTM A302 Gr.C
SBV2 pressure vessel steel Test:
Z15, Z25, Z35, Ultrasonic test, Sharp V-notch impact test, HIC, SSC, SPWHT, Macrostructure, detection of defects, and Hardness as well as DWTT test for pipelines steel plates are also available for clients.
SBV2 pressure vessel steel Heat treatment :
They can be carried out through normalizing, quenching and tempering, quenching and tempering and other heat treatment processing.
SBV2 steel chief application:
SBV2 are widely applied to petroleume, chemistry, power station and boiler industries,and also can make reactor, heat exchanger, separator, spherical tank, the tank of oil gas,nuclear reactor pressure shell, drum boiler, liquified petroleume gas cylinder ( LP cylinder), high pressure water pipes of hydropower station, water turbin shell and other equipments or accessories.